Building Optimistic Children
---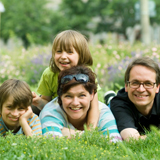 A growing body of research in the field of psychology suggests that we can instill a sense of optimism in our children, that optimism (like depression) can be learned. Optimistic thinking helps us (and our kids) face challenges, recover quickly from emotional blows, work through tough problems and fight off depression.

Optimism is a way of thinking, a particular style to explain things that happen. It is not a denial of problems, but an attitude that reminds us that problems are time-limited and that we can change things, can see things differently. Research has discovered that optimistic thinking protects us from becoming discouraged by everyday problems and, more importantly, from a vulnerability to depression.

The World Health Organization forecasts depression as the first epidemic of the new millennium. The cost of the disease is projected to hit $53 billion annually in the U.S. alone by the year 2020. Our children are especially vulnerable. Even now, depression is the most frequently reported mental-health problem in adolescence.

We have different ways of thinking. Some look on the downside, and explain things pessimistically. These people might be sad and give up easily, even when they are capable of achieving what they want. The optimist explains things differently: temporary, as an isolated incident, in terms of external forces. This is in contrast to the pessimist who sees things as permanent and pervasive, as an internal failing.

We need to teach our children (and ourselves) to challenge negative thinking. Think about how you think. Do you feel like things can't change, that bad things will last forever? Do you become helpless on the face of such thinking? Immobilized? Or do you understand these situations differently, as temporary and changeable? Automatic, negative thoughts are not necessarily true. For our children, negative thoughts may come automatically and be accepted at face value. The way we think about things needs to be challenged.
---
Read:
The Optimistic Child: A proven Program to Safeguard Children Against Depression and Build Lifelong Resilience by Martin E.P. Seligman, Ph.D., et al (Paperback, 1996 HarperPerennial)
Learned Optimism by Martin E.P. Seligman, Ph.D. (Paperback, 1998, Pocket Books)
---